The story of Fascinated by Hats and me as a milliner continues to evolve.  Both blossomed from my retirement "hobby" of hat making. Yes, I know most say retirement is a time to wind down. Yet, my "fascination" with all things hats has me winding up instead!
My Story as a Milliner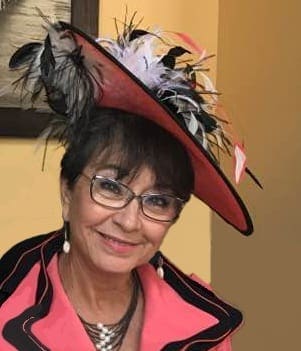 I fell in love with hats and hat making on a trip to New York City. Along with a group of "hat loving" ladies, we went shopping, of course. I tried on and purchased many hats and fascinators from well known and not so well known designers. And… I spent a fortune!  But a "seed" was planted. I saw that, with my sewing, technical, and artistic background, I could learn to make high-quality and designer fascinators and hats. Being a small boutique, I could also promise "one of a kind", unique millinery. And at very good prices compared to already well known designers.
Although my formal education was a bit unusual, as a Chemical Engineer, it trained me to be a "creative problem solver". I worked in Research and Product Development at Procter and Gamble for 32 years doing just that. But at the same time, I always engaged in artistry – jewelry making, painting, sewing,  tailoring and such. So I "simply" brought the engineer and the artist in me together to create beautiful and unique designer fascinators and hats. So now I get to create and also engage with women to help them feel their best, look their best, be confident and beautiful!  I watch them giggle and primp while they find the hats and/or fascinators that bring a glowing smile to their faces. What a joy-filled endeavor!
Fascinated by Hats' Story
My Brand, Fascinated by Hats, promises beautiful, designer fascinators and hats that help women be their most beautiful and fun selves. Each is exquisitely handcrafted and a unique millinery creation. Fascinated by Hats' offers a range of hats: from pillbox to larger brimmed hats, and from small to very large fascinators.  Of course, these also include derby hats (https://www.kentuckyderby.com/history/traditions/hats),  wedding hats, casual and cocktail hats and fascinators. I also sometimes "reinvent" quality vintage hats, maintaining their classic beauty while updating their look.
So whether you're looking for something elegant or casual, for a special occasion or just any day, Fascinated by Hats has the variety of designer fascinators and hats to meet your needs.  And if it is not already available, I will create the perfect custom millinery for you. A quality fascinator and/or hat created precisely for you, your special outfit, occasion, and style. Check out some of the my Customer reviews .
Got questions about hat wearing? Check out this Frequently Asked Questions page  https://fascinatedbyhats.com/faqs-why-wear-a-hat/
Suzanne Hardie